A little dab will do ya!
I really didn't go hog wild for fall decorating.  No stacked pumpkins.  The mantles and piano are absent their usual leaf garlands and fall goodies.  I didn't even decorate my porch for fall this year.  I know!  I know!  How does that happen?  I only left my monogrammed wreath up on the porch which is okay but I usually like to do more.  I didn't even buy mums!.
I just wanted to do the simple thing this year.  I want a whole lot of fall weather but just a little dab of fall decor.  I used only simple touches of fall this year with muted colors.  I didn't even buy a single fall pillow. Me.  The gal that loves her throw pillows.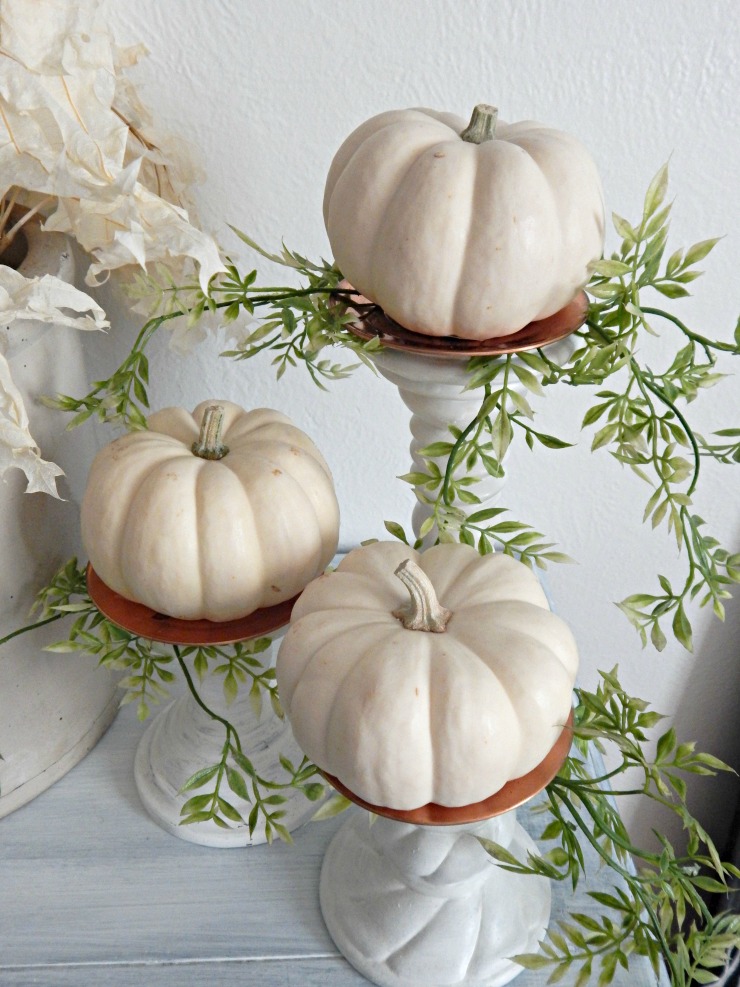 And do you know what?  I've enjoyed my fall decor this year more than ever!  Less to scurry my eyes over.  It's been so calming.  Less stuff and softer colors.  Simple living…..so refreshing!
The (real) little white pumpkins in the above photo are sitting on top of little copper plates that I paid ten cents a piece for at a yard sale. Yeah. My house is full of yard sale treasures! I guess those little plates were probably part of a children's playset.  Not sure, but they were perfect to set on my thrifted candlesticks to hold my little white pumpkins.  I tucked some fake greenery underneath the plates.  The weight of the pumpkins held it all in place.
Fall was the perfect excuse to bring out this Red Wing crock I got at another yard sale over the summer for a whopping $2.00.  I kind of felt bad only giving that lady the $2.00 she asked for it.  I never see crocks around here for that cheap, which is why I didn't own any before this one.  It had lots of cracks but that is fine for my decorating.  Gives it character.  I figured I'd just put a plant or greenery in it anyway.  I found some white fake leaves at the craft store and they worked out nicely for this.
My chalkboard sign is just an old piece of wood from a broken down shelf that I painted with chalkboard paint (a few years ago now).  I just wrote three words to help keep me focused at this time of year–grateful—thankful—blessed.  Hooray for instant inspirational fall art!
I love using simple touches like these to make my home a little cozier for my family.  What simple things do you like to do to make your home a little more cozy? Just leave a comment. I'd love to hear what you have to say!
Creative blessings,
Julia