Not a leg to stand on!
I got this old crate at a yard sale a while back.  I actually got several pieces of wood goodies at one time.  They were all calling out to me to take them home.  This crate was really more of a wooden box.  Someone had tried to reinforce it with some large nails and some metal bent around the end of one corner.  There were some water stains too,  but I didn't really care as I just thought it was kind of a cool looking box and my plan was to sit plants in it out on the patio.
Out on the patio with terracotta pots of succulents gracing the inside of it is where it stayed for awhile until I wanted to find a crate to fill with little pumpkins, greenery, and fall goodies.  Crates were being filled with fall goodies all over Instagram and Pinterest.  I needed one of those!  I tried several crates and boxes I had and none seemed to be the right size, so I went scrounging around on the patio and gave this another look.  This time I envisioned something better than just an old box that had water stains and metal pounded into it.  Here comes the paint!!  Oh, and a little modifying because this poor box didn't have a leg to stand on!
New life for a tired old box
I looked around for something to use for legs for this box to give it a little height and perhaps make it look even cooler because after all this box was leaving its patio home and coming inside the house.  I finally ended up buying some of those wood candlestick pieces from Hobby Lobby.  Pretty budget friendly (5 in a package for around $2.40) when you use the coupon, and they were the perfect size for my little box friend.  Just enough to give him a little lift.
I tore off that metal and fixed the corner properly with some small screws.  I added the legs, primed over those water stains, and painted this guy up.  It wasn't like it was an old crate with wording.  I wouldn't have painted one of those (well maybe) but it was just a wooden box.  I didn't do any touch-ups to fill in paint into the grooves or anything. I thought it looked pretty good as it was.  Just a tad rustic looking.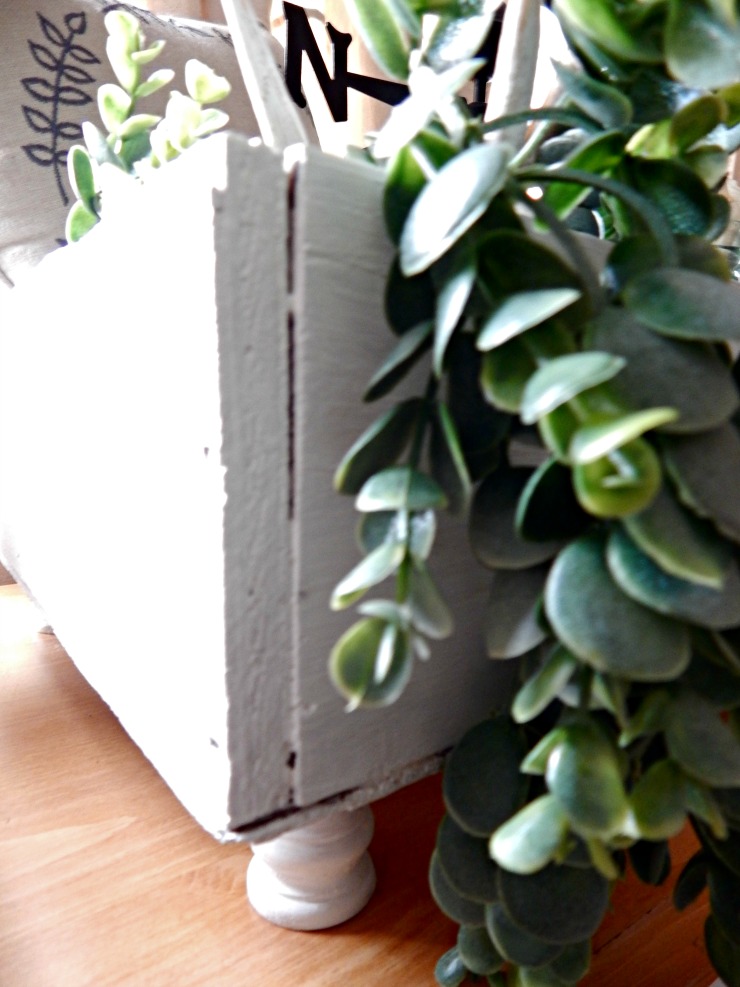 Sitting on a pedestal
The legs were so easy to add.  I turned the candlesticks upside down on the bottom side of the box in the corners so I could put a screw through the flat end.  Then from inside the box in the corners, I drilled a screw into each.  It did take a little finagling to line them up first but it wasn't too difficult.  Tada!  I now call this old box a crate because he is a changed man.  It's okay to put some things on a pedestal!
I have another wooden divider box that I want to add candlestick legs to next.  I keep looking all around my house thinking, "Who needs a new pair of legs?" I just think that little bit of height adds so much.  What about you?  Do you like the look of heightened trays, boxes, and crates?  Leave a comment.  I would love to hear what you think.
Creative Blessings,
Julia
Note:
I am not compensated by Hobby Lobby for mentioning their wood candlesticks.  It's just the perfect thing to use on these.