Fall is calling!
Okay, I love fall!  I love all the colors, the chill in the air, getting back to a school schedule with my kids, and then there are pumpkin muffins, Thanksgiving, drinking out of pretty fall mugs (okay that's probably only just important to me only!).  Oh and then there is getting to pull out the leggings for the first time because, hey, we need some leggings with those big oversized sweaters that we want to wear, especially around the house when we want to chill out with some coffee or a cup of hot tea.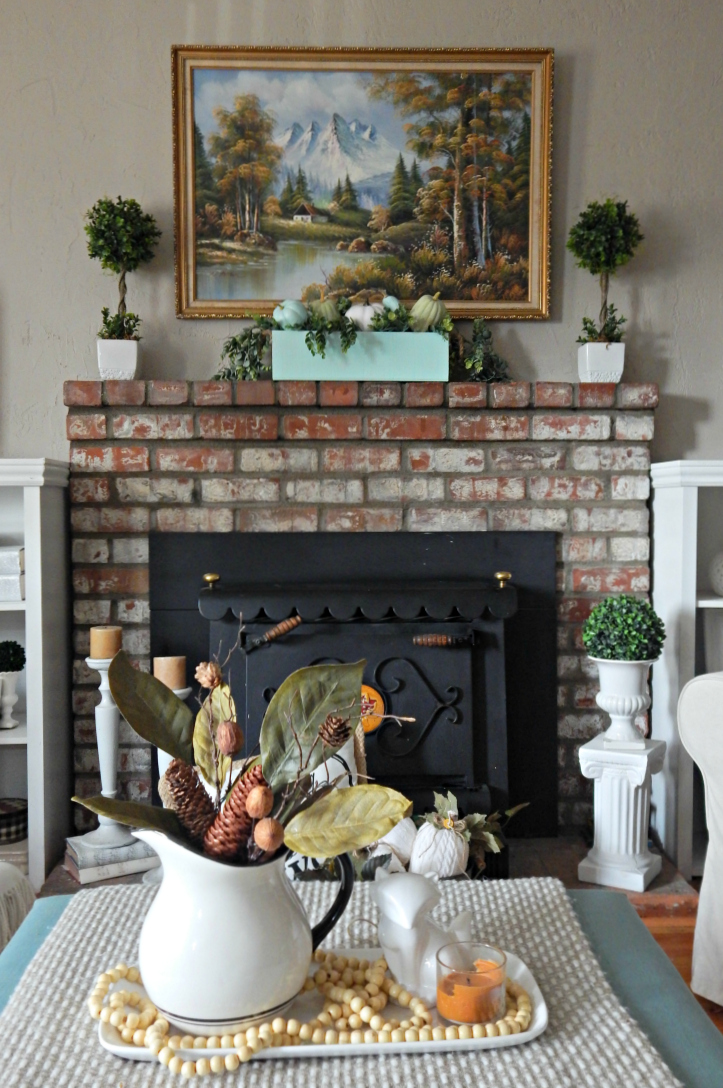 Here in Northern California, it takes us longer to be able to do that, but when the rest of the country is pulling out the heavy sweaters and even coats, then we are finally able to don our most light-weight sweaters.  We wear them in fall too and no one can stop us, even if we sweat a bit and have to turn the air on, cause fall is fall after all!  We want to enjoy it too and to do that we need to be cozy!
Speaking of cozy, doesn't this vintage painting give you all the feels?  When I hung it up there and put a few little touches of greenery and my muted fall tones of white, a light sage green, and palest blue pumpkins, this painting just came to life.  I opted not to put out my myriads of fall décor in the traditional fall colors and I really thought I'd miss it and maybe dig some of it out and put it in my family room.  But I have to tell you that every time I come in the living room, this painting draws me in.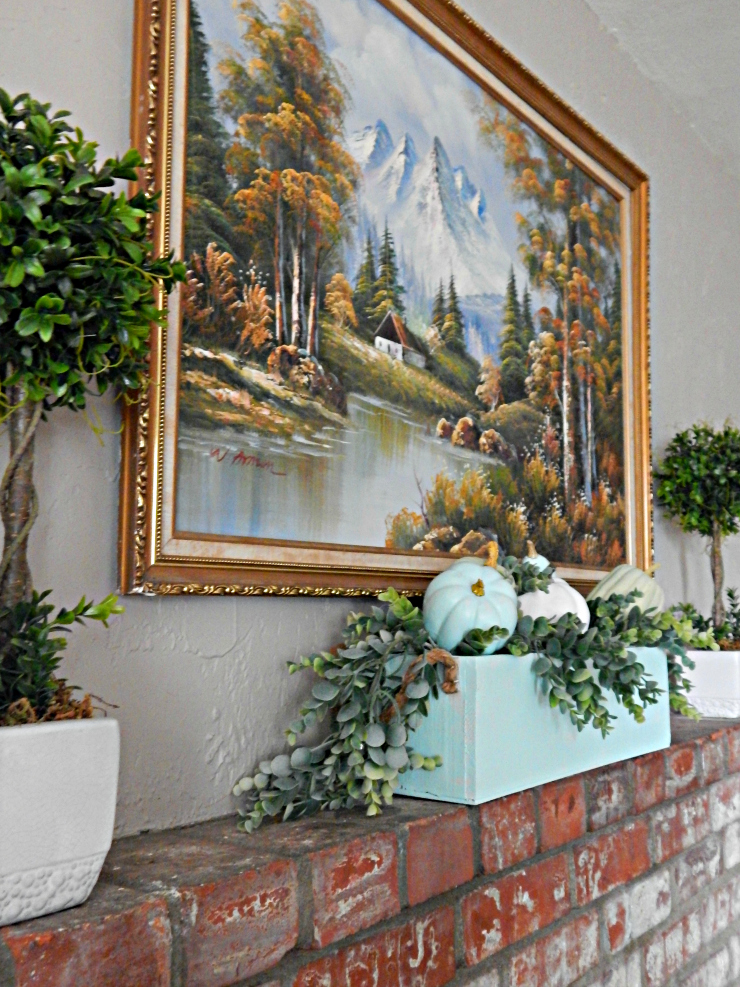 I keep catching myself staring at it. Do you do that with paintings?  I stare at one spot.  The next time I'll stare into another spot that interests me.  Such a beautiful fall view in this vintage work of art!  I have to insert here that this painting is on loan from the Museum of Aaron (haha!)  It belongs to my son.
A thrifting story for you.
Aaron is a senior this year by the way.  Anyway, over the summer he and I went on yard sale rounds together several times.  At one I bought this vintage painting for myself—$5.00!!!  He buys this ottoman, for which I had to cough up another $5.00.  Hmmmm….  He never brought money with him.  Okay, he buys this large square black leather/type ottoman of which he says he has plans for in his room.  I kept telling him it was too big.  So, at home, it was way too big.  I think he wanted to make a little seating area in there but it took up too much room.
So then Aaron brings his ottoman into my living room and takes the painting, which he liked too.  He says we are trading.  I don't think I quite agreed to the proposition but it's what happened anyway. What kills me is that I just had gotten rid of a large square coffee table that was just way too big for the space.  Now an ottoman is parked there.  I did cover it and painted the legs white.  Still looking for a coffee table that fits and that's my style but haven't found anything yet, so my husband and I fling our feet on the ottoman of the evening when we watch our Inspector Lewis.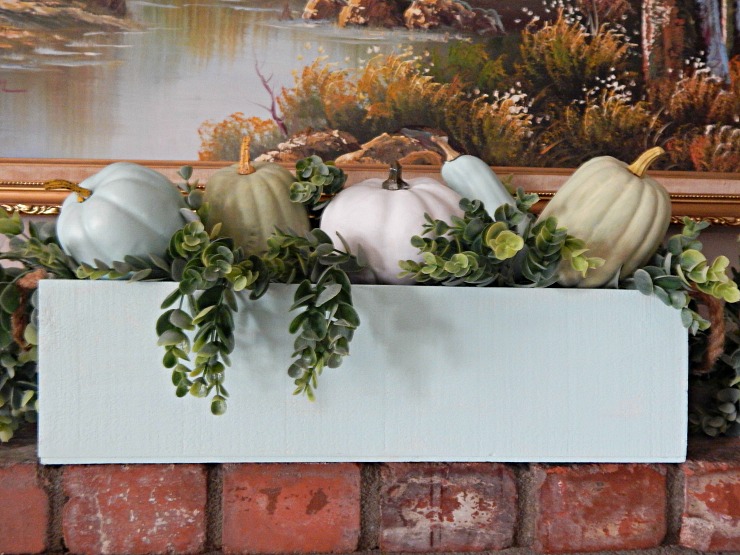 Aaron still hadn't hung that picture in his room by the time I started looking for things to decorate for fall.  He kept saying he's not sure which wall he wants it on. So he agreed I could "borrow" the painting to put over the mantle for a while.  I hope there isn't a lending fee involved!
What things make you ready for fall and the cozy side of it?  Pumpkin lattes?  Walking through leaves?  Pulling on your favorite boots?  Leave a comment.  I would love to hear from all the Fall Lovers out there!
Creative blessings,
Julia