And comfy cozy are we!
Eeeek!!  Where has the time gone?  Here it is just four days till Christmas and I'm just now sharing some pics of my Christmas home.  I guess it's because I've been at stages of decorating ever since Thanksgiving.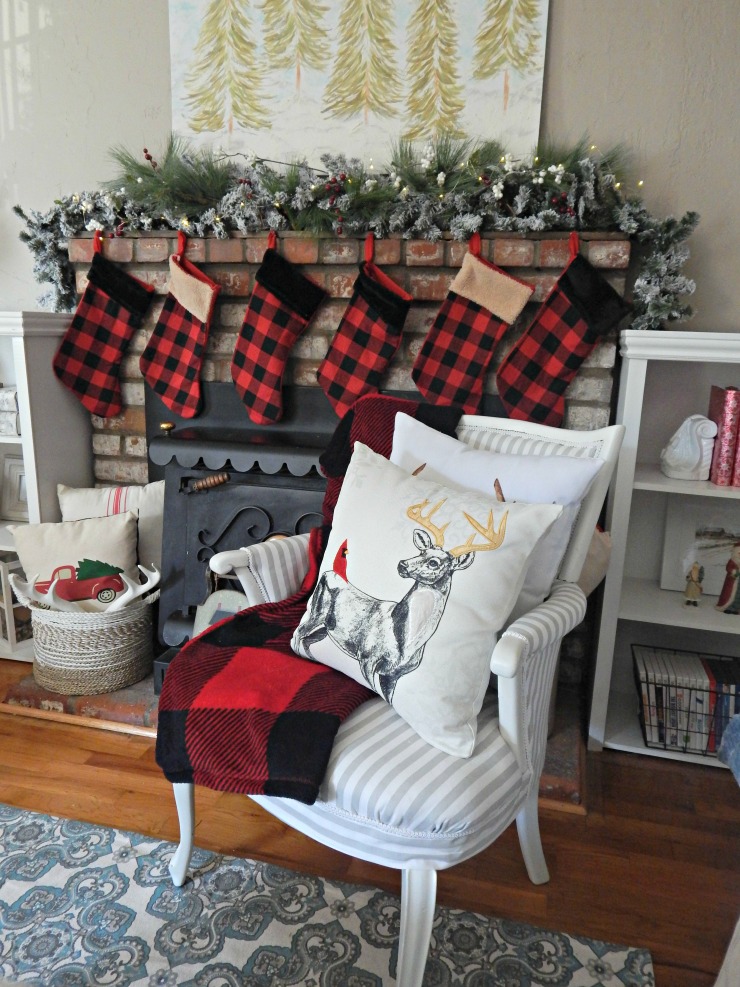 Do any of the rest of you do that?  You just keep adding.  Taking away.  Never really finishing.  I know some people got it down pat.  They have their Christmas boxes stored.  They take those boxes down, pull out their decorations, and put them up.  An hour or so…boom!  They are done.
Not me!  I don't like the same thing every year.  Some decorations we have and it's kind of a tradition to put them out, but frankly, I always like things to look fresh and new and different each year.  This year, I'm all about woodsy and buffalo plaid.  Oh, and those pops of red.  You can see how I made my little trees on this post.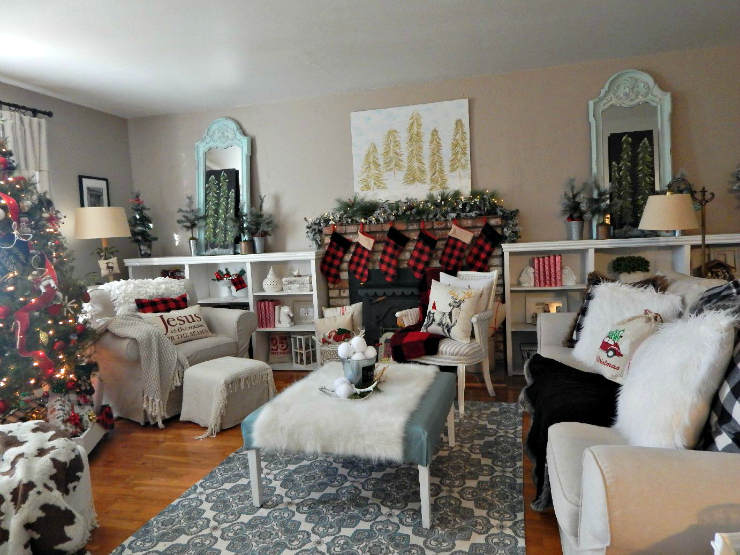 I used some fuzzy textures to cozy up the room, because what doesn't say cozy like fluffy, fuzziness!  Is that a real hide on the ottoman?  Well, no, it's a $14 dollar rug from Marshals bathroom/towel aisle.  They had a fake "hide" when I got it.  Looked almost the same.  (Okay, not square but about the same size) but it was $34 and you know that I just couldn't see my way to pay that.  The shaggy "throw" over the back of one the Ikea chair in the corner is also a bathroom rug.  Well…they make them so fun!
I like having lots of throws around too.  For every spot to sit in the living room, there must be a throw handy.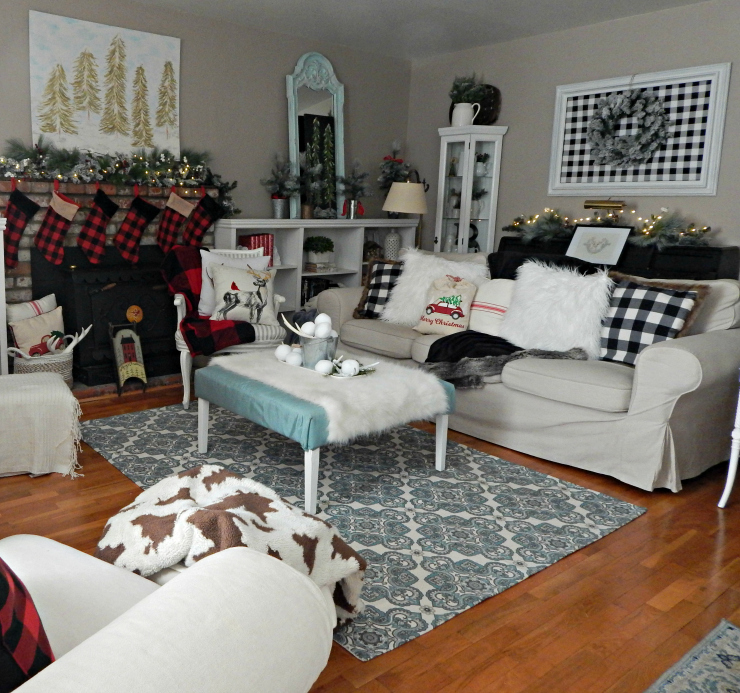 I popped out the vintage painting that was in that frame over my piano.  It really was just sitting in there with a piece of duck tape on the back cause the frame really wasn't deep enough for the painting anyway, but what are you gonna do when you get it at a yard sale for $5?  Can't complain.  I just taped some buffalo plaid wrapping paper to the back of the frame.  Gotta love instant art.
When my husband came in one day and saw it, he thought it was fabric.  My daughter did too until she remembered I had wrapping paper like that.  I just added a plain flocked wreath to it that I got at JoAnns.  I had intended to add some things to a few of those wreaths I got there but they were just so nice plain.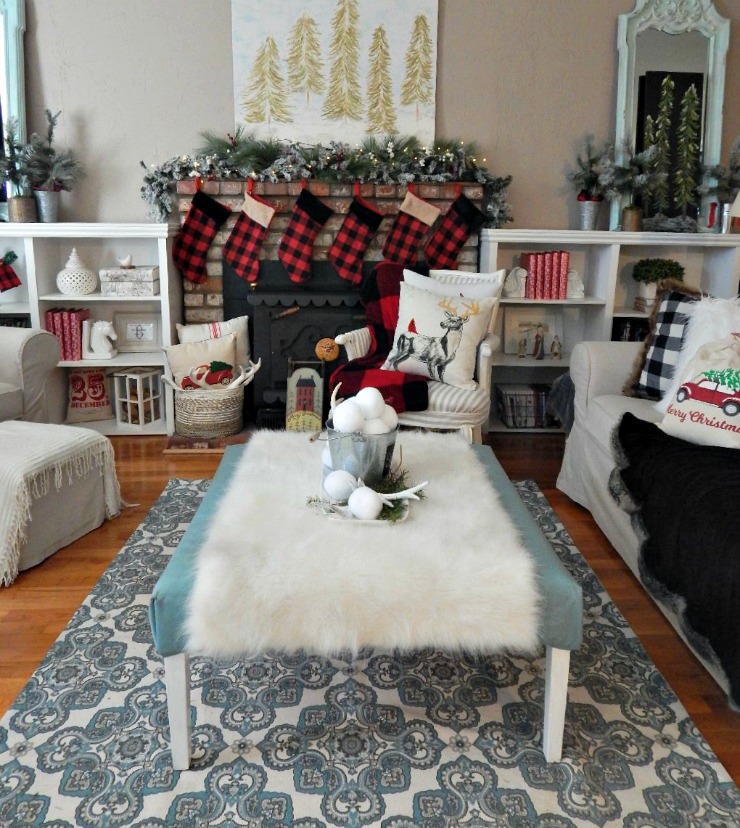 I know they are far away and not focused too much, but did you pick out my wrapped books?  Normally my books are all wrapped in white paper.  I have some document paper from Ballards that I use and some just plain white butcher paper.  My daughter told me I needed to wrap them in red paper, so I found some pretty red paper at Marshals.  Also, I'm me, so I had to have some white.  I used some pretty birch paper that I found at Pier 1 on a few of them.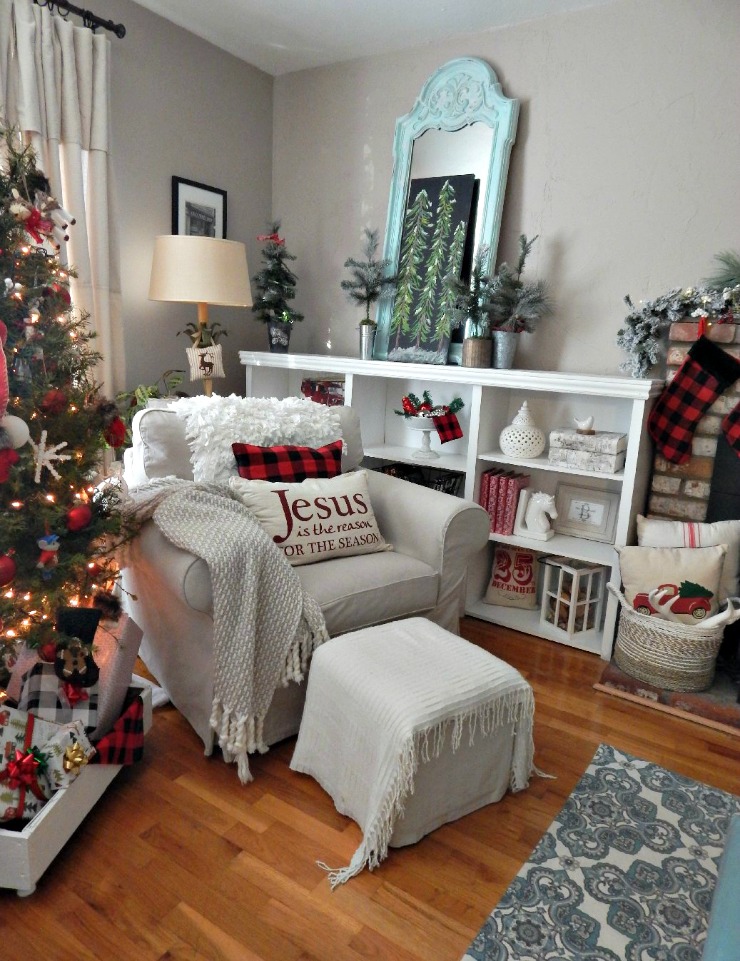 I wanted at least one sign or pillow that said something about the true meaning of Christmas.  I loved this Jesus is the reason for the season pillow that I found at Kirklands.  When I got it, it was on sale, plus they gave me another 20% off coupon so I got it.  I always feel like things that say what you want them to say on a pillow is just as important as how it looks, don't you?  Sometimes I see the dumbest things written on pillows.  There outta be a law!
I'll share some more pics tomorrow.  Better late than never I guess.  I must say that my endeavor for cozy this year must be working.  My family who normally doesn't sit in the living room much,  have been laying around on the chairs and the sofa alot this past week.  What's with that?  Maybe this cozy is working too well.  No, really.  It's nice to have everyone together.
What do you do to make your house cozy?  Leave a comment.  I'm always looking for ideas.
Creative blessings,
Julia