Playing with texture!
I have to admit that I am a throw pillow lover. I know some people hate them. I have friends that think they are a nuisance.  I think the opposite. Pillows give me all the cozy feels, especially during the winter. I like snuggling down on the couch or in one of my chairs with pillows all around me. And when they are soft and furry I love them all the more.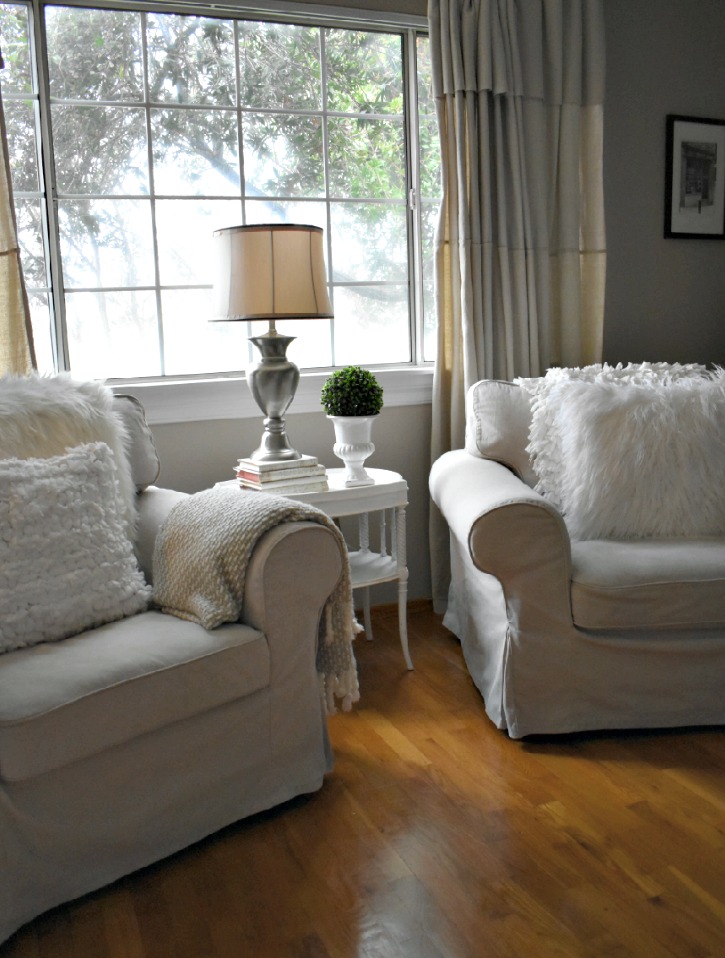 Recently my husband and I were walking through Marshalls and I was touching all the pillows down the aisle. He is like, "Do you have to touch them all?". I'm like, "Yes!".
It's what I do.  Anyone else like that?
I do the same with all the clothes on the racks too. Especially those sweaters! The texture just draws me in. Where would we be in life without all the texture to add some interest?  Some of my favorite fabric textures for winter are velvet, corduroy, chenille, and faux fir.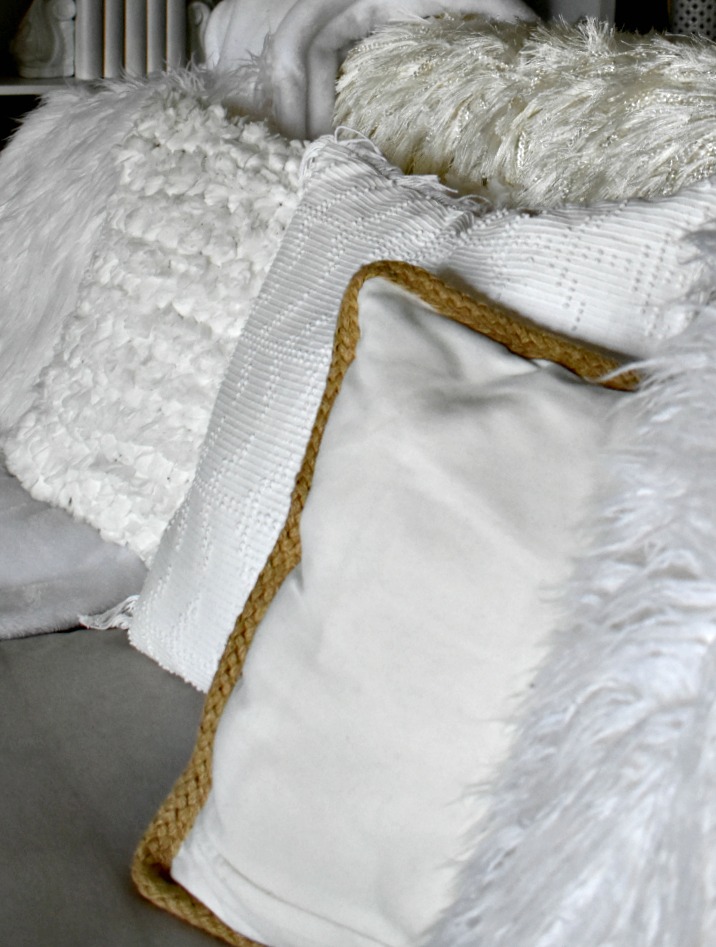 Most of the pillows around my house come from Marshalls, Home Goods, and Burlington.  I like it when they have those two in a set ones where I can get them just a little cheaper.   More often than not I just change out the pillow covers which I purchase online from H&M, Amazon, or get from my Hobby Lobby when they are half off.  If I'm feely a little crafty, I make my pillow covers.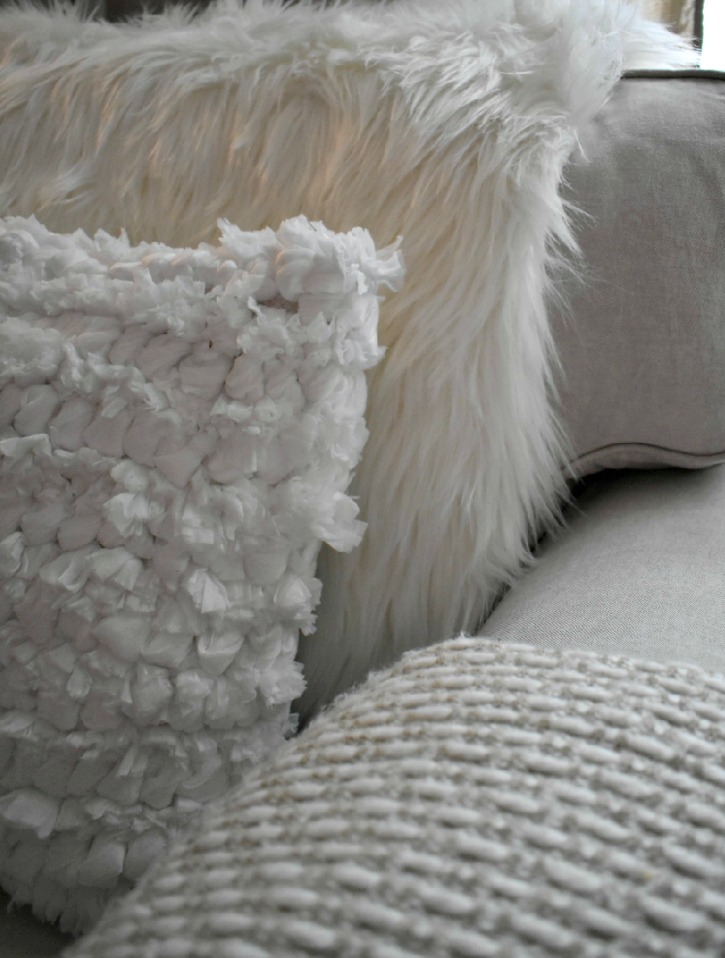 Want to know the secret of all that cozy fuzziness and shagginess coming from on the back of my chairs and behind the pillows on my sofa?  Well….bathmats of course!  They are budget-friendly and too pretty to leave hidden in a bathroom.  Plus they add texture and help keep my chairs and sofa from getting so dirty.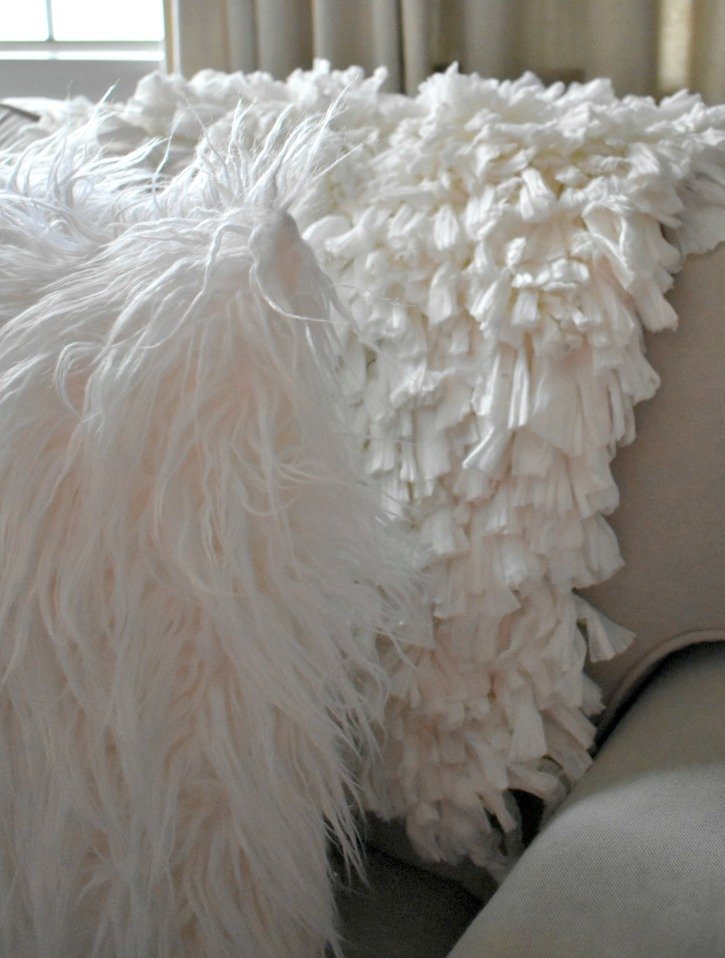 I have been eyeing some pillows and pillow covers on Amazon but I have to admit that I have trouble deciding when I look at Amazon.   I'm not sure what it is.  I get Amazon Checkout Anxiety or something!  Is that a thing?  Am I the only one?   I debate so long that what I want usually is out of stock before I press that checkout button.  I think I need to join a group for that.  I need help!
Okay, it's not just Amazon but I have shopping carts with items in them all over the web that I never carry through with.  I'm so decisive about some things but when it comes to purchasing things, especially for my home, I get this uneasiness about it.
This post contains affiliate links.  The links are provided below.
My disclosure statement can be found here.
What do you do to bring coziness into your home?  As you can see, I'm all for that cozy texture.  Come to think about it, I like that in people too!
Creative blessings,
Julia